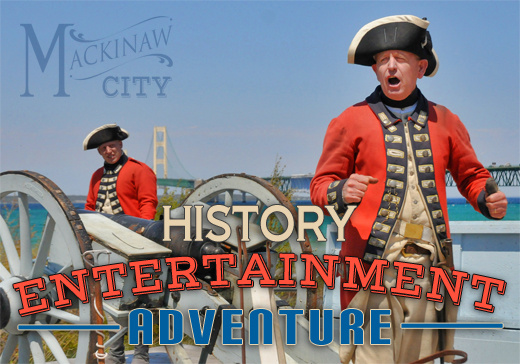 Mackinaw City, Michigan
Mackinaw City Lodging, History, Entertainment, Adventure
Welcome to Mackinaw City, Michigan, located at the northern most area of Lower Michigan, our location is your family friendly destination. Visitors can experience Mackinaw City Things to Do and Things to See along with a wide range of Mackinaw City History. The Mackinac Bridge will greet you upon your journey while scenic vistas will amaze you throughout the Straits. If you are looking for the best places to stay in Mackinaw City, a vacation rich in history, entertainment and adventure, look no further, Mackinaw City is the place to be.

"Mackinaw City, MI was the most requested city in Michigan for Trip Tiks and maps from AAA members in 2009." – AAA of Michigan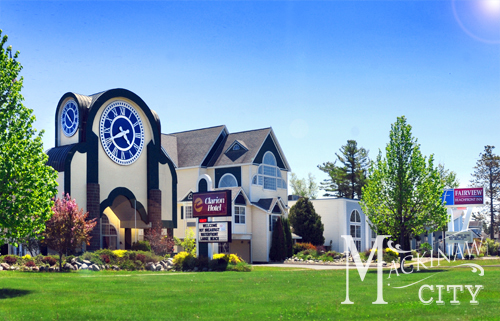 Mackinaw City Hotels
Where are the best places to stay in Mackinaw City?
Whether you are looking for overnight accommodations or a week long vacation, Mackinaw City Hotels and Motels are just a click away. Our Mackinaw City Lodging delivers to you a vast amount of lodging types and amenities to fit your exact needs. Here you can view, match your amenity needs and pricing budget to an available listing, view photos, make your selection, and book your get-a-way. Mackinaw City is also an affordable and fun option when planning a visit to Mackinac Island.

Finding the best hotels in Mackinac City, MI can be a challenge during the summer months. Booking in advance can help secure your Michigan vacation. Click here to Book Now.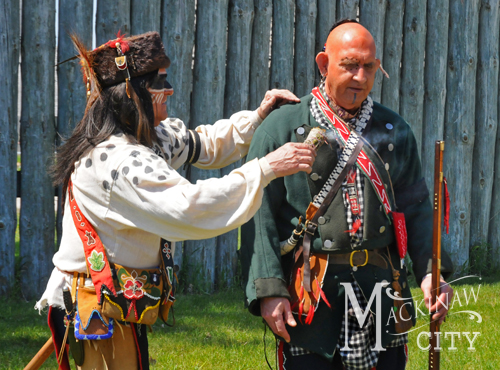 Historical Fort Michilimackinac
Annual Events and Longest Running Pageant in the Nation
The area's historical highlights are both educational and entertaining. Family orientated, visitors of all ages can enjoy a multitude of incredible things to see. Mackinaw City's Fort Michilimackinac is a state park located at the south end of the Mackinac Bridge. The view is spectacular. This incredible colonial journey back in time begins with the Visitor's Center, which in itself is full of history, kiosks, picnic tables, beverages, snacks, along with shopping. The Visitor's Center leads into the Colonial Fort Michilimackinac property where history comes alive with period clothing, cannon reenactments, archaeological digs, musket firings, and sixteen buildings that are themed exhibits. This is considered one of the most extensively excavated early colonial French archaeological sites in the United States.

The greatest time to visit this fort is during the Memorial Weekend where spectators can watch the free historical pageant. We invite you to watch the video at the end of this page to view some of the highlights from this longest running pageant of its kind in the Nation. Learn more about Fort Michilimackinac.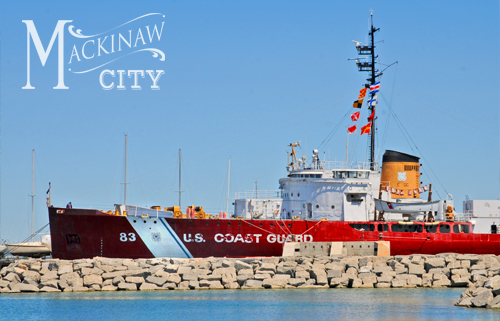 More Great Things to See in Mackinaw City
"Strait" Up Great Attractions!
Along with the Fort, this Michigan Destination offers the Mackinaw Maritime Museum, Jack Pine Lumberjacks Shows, the Mackinac Bridge, Mackinaw Bridge Museum, the Ironworkers Walk of Fame, the Mackinaw Manor Haunted Mansion, Old Mackinac Point Lighthouse, the McGulpin Point Lighthouse, along with a variety of scenic outdoor beaches and hot spots.

Shown here is the Maritime Museum, the "Queen of the Great Lakes". This vessel performed for 62 years as an ice breaker for the Great Lakes and is now serving as an educational goodwill ambassador for the Straits Area. View all the area attractions and learn more.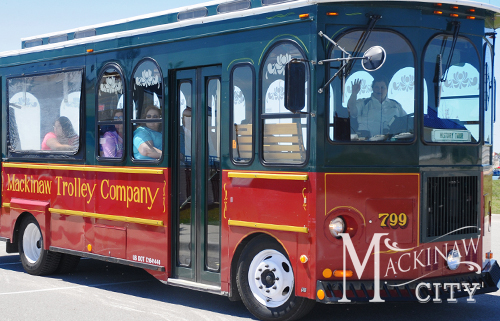 Things to Do in Mackinac City
Food, Tours, Art, Souvenirs, Golfing and Goodies
Wow, there is no end to the things to do in Mackinac City. Plan your stay here and experience a unique shopping and restaurant district that offers some of the best gifts and souvenirs along with food that is out of this world. Vacationers can find local artisan crafts and treasures that echo the city and the culture: jewelry, clothing, traveling necessities, fudge, candy, toys, flowers, books, art, Build Your Bear store, wine tasting, just to name a few.

For those on the go, the Mackinac area also has a bike trolley tour, parasailing, cruises, rentals, charter boats, a variety of golf courses, and ferry's to Mackinac Island. Another great activity is the Mackinaw Historical Pathway that displays forty educational and historical markers throughout the village promoting the history of the area.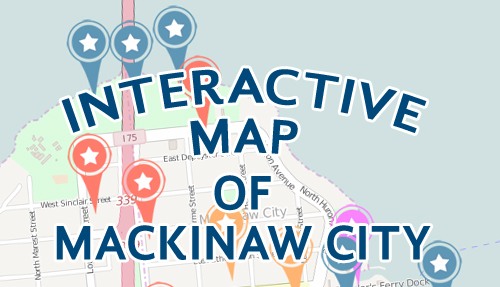 Interactive Map of Mackinac City, MI
Make the Trip Easy by Locating all the Things to See, Do and Places to Stay
We invite you to check out our easy to use, mobile friendly Interactive Map of Mackinaw City. This informative map will guide you through the area and highlight some of the best places to visit.

Our map will give you the locations of area hotels, dining, things to see, things to do. Let us help you make your Northern Michigan vacation the very best. Come and Experience Mackinaw City, Michigan at the Top of the Mit!
---
Upcoming Events
Corvette Crossroads Auto Show
27 Aug. 2016
This is the 27th Annual Corvette Crossroads Auto Show held on Aug 27th through the 28th. There will be a Corvette Parade across The Mackinac Bridge on Saturday at 7:00PM
Click here for complete information.
Mackinaw City Arts and Crafts Show
27 Aug. 2016
Held at the Conkling Heritage Parks on South Huron Ave, this great Arts and Crafts Show will feature a variety of local and regional artists.
Click here for complete information.
59th Annual Labor Day Bridge Walk
5 Sep. 2016
Come and walk the amazing Mackinac Bridge with thousands of other participants! This is a Michigan tradition which is held annually on Labor Day. This is the only walking event that is held on the bridge. Come and experience the Mighty Mac up-close!
Click here for complete information.
9th Annual Antique Tractor Mackinac Bridge Parade
9 Sep. 2016
Spectactors to this event can view hundreds of tractors. There will be a public viewing of the tractors held at the Little Bear Arena on Fri Sept 9th - 10AM and Saturday the 10th - 8AM to 5PM.
Click here for complete information.
20th Annual Big Truck Show and Parade of Lights
16 Sep. 2016
20th Annual Big Truck Show and Parade of Lights - a Richard Crane Memorial Show where parade spectators can view incredible one of a kind semi-trucks - customized with auto paint art work and light displays. This is a real fun event for all ages. Trucks will cross the Mackinac Bridge on the 17th at dusk and head over to Mackinaw City, then returns to St Ignace. Trucks will be on Display on the 18th along with an Awards Ceremony held on that day.
Click here for complete information.
"BIG MAC" Shoreline Fall Scenic Bike Tour
17 Sep. 2016
Over 300 bicycle enthusiast from Michigan and the Nation join in this great event that includes bike tours along Lake Michigan's shoreline. Participants can choose the tour that fits their abilities that include: 25 miles, 50 miles, 75 miles or 100 miles. There will be Safety Wagons along the tours to ensure safety for all who join in the fun.
Click here for complete information.